Bess was a border collie who was bad used by her previous owner and somehow or another, ended up at the SSPCA. Bess was adopted by a 75 year old lady who lived in the city. She was a very timid dog, who was scared of everything and disliked humans and other dogs. But she had started to trust her owner.
They had just 4 short weeks together before Bess got spooked in a park and took flight, on 22nd of August. She was seen all over the city in that first week but nobody could get near her because of her nature.
She eventually made her way down to where I am, south of the city/shire boundary. It was a nervy time for all as she narrowly avoided being hit on the A90 more than once! It was here that I got involved with the campaign to catch her.
She then made her way inland, somewhere much safer for her! She was successfully lured to an area using disposable BBQ's. In this area they set up a trap from the dog warden along with motion triggered cameras. She was caught on camera several times, eating the food left out, but she was wary of the trap and it spooked her by slamming shut in the wind. This was going to be a long process. The trap was wedged open, and food was placed at the entrance. Daily, the food would be pushed further and further back in the trap until she went in it. At this point, the wedge was going to be removed and hey presto! Bess could come home.
Only, it didn't work out like that because a week past Friday, some **** went into the field and tried to catch her. She took off again and she wasn't seen again until 2 days ago. Back in my neck of the woods.
Yesterday afternoon, someone posted on the FB group saying they had seen her on the verge of the A90. So down the owner's son went, along with some of his friends. I went out in the car with my little guy to see if we could see her in any of the fields. She'd vanished
I had a really bad feeling about her being so close to the A90.
I woke up at 4:30 this morning and couldn't get back to sleep. I went on to FB and there was a post on my local community page saying she was standing at the south side of the A90. Owner's son had been contacted and he was on his way. I was lying in my bed freaking out because I could hear the traffic picking up already. I couldn't do anything. OH is offshore and the little guy was, of course, in his bed.
I eventually fell back asleep. I then woke up again at 7:15 to find my friend had tagged me in a post saying Bess had been hit by a car around 5am and she hadn't made it
I'm absolutely gutted. I don't suppose I've got much right to be really because I never even met her. But we all tried so hard, traipsing fields and forests, chasing up sightings, on a constant look out for her. It was an emotional rollercoaster.
I'm also angry. Angry at that person who thought they knew better, for chasing her out of the field, when the owners warned and warned people not to even approach her, never mind chase her!!! If they hadn't done that she would probably be home and well by now, and not at home the way she is.
I'm so sorry, Bess that this happened to you. Just when you'd found a loving home, and just when we thought we were close to getting you. You will never know how much you touched that hearts of the people in the city and in the shire. There were nearly 1000 people on your FB group, all ready and willing to do what we could to get you home.
Sleep well sweetheart. You don't need to be afraid anymore xxxxxx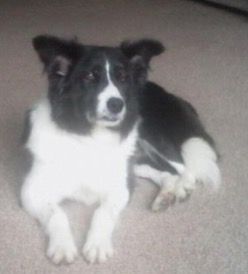 Last edited by Thumper2001 on Tue Oct 04, 2016 5:52 pm; edited 3 times in total

Thumper2001

Admin




Gender

:


Number of posts

: 13551


Age

: 36


Location

: In a mad house!


Registration date :

2011-04-26



I never realised how long that post got

Thumper2001

Admin




Gender

:


Number of posts

: 13551


Age

: 36


Location

: In a mad house!


Registration date :

2011-04-26



I am so very sorry to hear this darling, she is a beauty. Lots of love and comforting vibes on their way.
Hugs
JO xx

jolovesbunnies

Elder Hopper





Gender

:


Number of posts

: 11948


Registration date :

2011-01-02



That's really awful. Border collies are the most wonderful dogs and it takes a lot of care and understanding to keep one as a pet.
As I scrolled down your post and Bess's photo started to come into view it really hit a chord with me as she looked so much like my own collie, Misty, gone almost 11yrs now. I'll put her picture up as my avatar for a while so you can see the likeness.

RIP Bess. At peace at last.

woodwench

Established Hopper





Gender

:


Number of posts

: 4078


Age

: 69


Registration date :

2011-07-06



God that's incredibly sad, I imagine her owner feels terrible for letting her off her lead so soon.
Thank you for being one of the people who tried to hard to get her home.

Big Ears

Established Hopper





Gender

:


Number of posts

: 996


Location

: somewhere else


Registration date :

2008-07-09



Praying that she has found peace at last
Binky free darling
Xxxx

gemma997

Established Hopper





Gender

:


Number of posts

: 1512


Age

: 37


Location

: Glasgow


Registration date :

2015-09-30




c.bolduan

Established Hopper





Gender

:


Number of posts

: 3124


Age

: 54


Location

: Gloucestershire


Registration date :

2013-07-23




Thumper2001

Admin




Gender

:


Number of posts

: 13551


Age

: 36


Location

: In a mad house!


Registration date :

2011-04-26



---
Permissions in this forum:
You
cannot
reply to topics in this forum