My 'Little Girl' died today. I am not dealing with it well and need help. I don't know whom to call but I'm in a bad way and its really affected me. Its the first evening following her death today and the sun is setting here in England and I'm going to struggle tonight. I am riddled with guilt.
I went on holiday a month ago and noticed when I returned 'Little Girl' had lost weight. My brother had been caring for her while I had been away. On my first day back I cut her nails and thought she is loosing weight. I thought to myself I must feed her more carrots and items with sugar and fatten her up. She was alert and fine and playful. Past few weeks, she was still loosing weight but she had a hefty appetite and I watched her eat her pellets and straw etc as normal.
Here in the UK we have been having really sudden hot weather. Yesterday I spent the day in the garden doing hedge cutting. I didn't want to let the rabbits out in the afternoon as I needed to focus on that. They were in the shade of their hutches out of the sunlight. Little Girl lived with her daughter La-La another small female. I checked on them and they were both lead stretched out, the pair of them didn't like the heat, but didn't think anything of it. They were out of the direct sun and it was warm weather but no hotter than they have experienced before.
This morning I went out to put the pair of them in their run in the garden, and I noticed 'Little Girl' hadn't moved form her position yesterday evening. I panicked and checked on her. She was limp and weak. My initial reaction was she had sun stoke, I called the vets immanently and said I need to come up ASAP with my 'Little Girl' I gave her water in a bowl in front of her and she drank some but was very weak. I took her straight to the vets.
I got there and they took her to a back room. The reception told me to wait, she had a quick check over and was told she was weak. So just stating the obvious, she was given back to me. I then had to wait for a vet to be free. In that sense it was good at the surgery as they let me go straight in with her to the vets examination room as soon as the vet was free from his current appointment. I went in with her, the vet then weighed her and said she was thin, I explained the situation, and he checked her teeth. (with were fine) I said she still ate and had a appetite. The vets checked her all over and felt her tummy and said he felt a very large tumour/growth. Cancer of the ovary. I asked if she was in pain and he replied "probably" we then discussed surgery to save her. The vet said he didn't believe she would pull through as she was fragile. The vet also said it was very large and likely to have spread. He said he was sorry and believed her being put to sleep was the best option. To cut a long story short 'little girl' was given a injection of pain killers in the back of her neck and I agreed to take her home and send her last few hours with her this afternoon. A few hours later this evening I had to return to the vets for her to be put to sleep. I held her while she was injected and passed away.
She was only six years old. Because she lived with another female and there was never any fighting she wasn't nurtured. She had a great relationship and the two rabbits loved each other dearly. Even though she died of natural causes I feel its my fault as she might had lived possibly if she had been neutered I feel dreadful, the vet had a lot of compassion I said if I brought her a few weeks earlier would she had made it with a operation. He said not probably.
I miss her so much and it feels like its end of a era. I would think about her while I was working and out and wounder what she was doing, she was like a little person and had her own unique traits and personality. I feel so bad. Last night before all this happened today about 8:00pm I nearly brought her in the lounge to play with her, but at the last minute the rest of the family said no not tonight do it tomorrow evening, she will be in the way tonight. So I didn't, and she never made the following night. I feel I have left her down. I have a question to this forum - I kept speaking to her during the afternoon, I still gave her space and didn't crowd her as she couldn't be comfortable, but when I was speaking to her; she wasn't herself, but I kissed her and kept talking to her as she rested; I just wish there was a way I knew that she knew that I was trying and was worried about her. That's the thing with rabbits I've learnt they never let anything on.
I got her six years ago. I was going for a day out on a Sunday and passed a local newsagents on the way to the train station. It has a sign saying free rabbits need home in the shop window. I wrote down the number and went out for the day. Just before I got the train back to my home town I called the number that I wrote down from the ad in the newsagents window that morning. A lady answered and said for me to over to her home. It was a short walk from my house. This lady who put the advert daughter's rabbit had a litter of kits and 'Little Girl' and her sister were left. Nobody wanted her as she was not a pretty colour. According to her birth home, I took her straight away and she was perfect.
I feel like empty and depression towards my remaining rabbits. Little Girl was my first and always I thought the leader and my special one. I don't know what to do I feel so low and desperate. Please help me. I wish she was still alive and would be with me this summer. I am in shock.
I need to find a good set of photos but this the only one I have on this machine. I find it difficult to upload.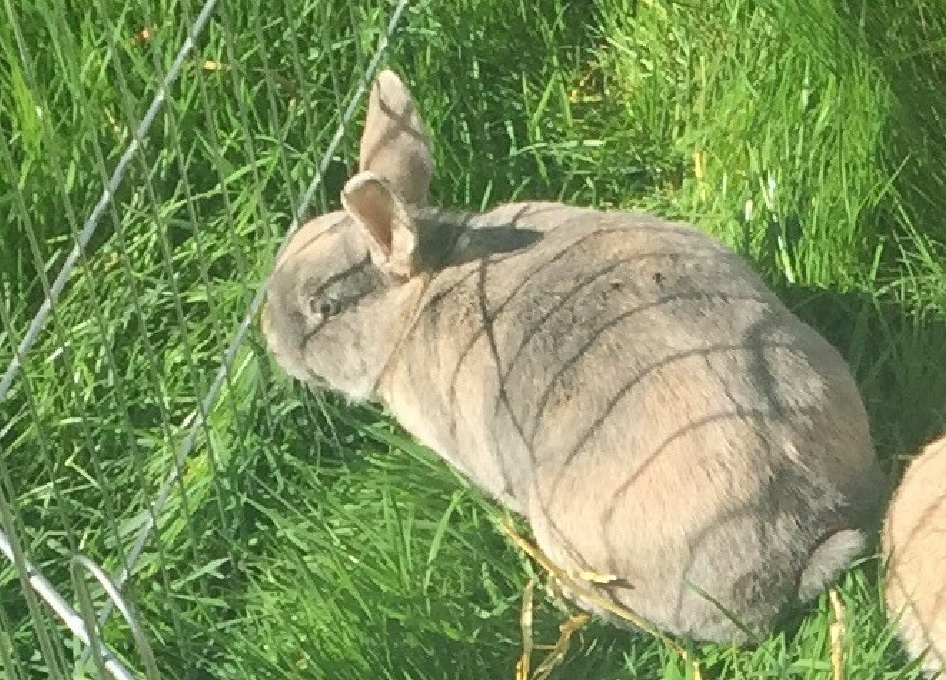 Oliver111

New Hopper





Gender

:


Number of posts

: 4


Registration date :

2018-07-03



You're in England, that's good because we have the wonderful RWAF (Rabbit Welfare Association & Fund). The membership won't break the bank and they have a wonderful counselling/advice service.
Here's their address:
info@rabbitwelfare.co.uk
Also we are a pretty friendly lot on HH and, believe me, there's not one of us here who hasn't been where you are now, and felt that pain.
Little Girl was a beautiful rabbit, I love grey rabbits.
R.I.P. Little Girl.

woodwench

Established Hopper





Gender

:


Number of posts

: 4078


Age

: 69


Registration date :

2011-07-06



She was beautiful hunni, she will be waiting for you at Rainbow Bridge.

Hugs
JO xx

jolovesbunnies

Elder Hopper





Gender

:


Number of posts

: 11948


Registration date :

2011-01-02



jolovesbunnies wrote:She was beautiful hunni, she will be waiting for you at Rainbow Bridge.

Hugs
JO xx
I have only just heard about this, and seen the mention of the rainbow rainbow bridge. the thought of her somewhere without me makes me really stressed out. I want this to be true but how can I be sure. I feel she should still be here I need know how to get over regrets.

Oliver111

New Hopper





Gender

:


Number of posts

: 4


Registration date :

2018-07-03



Sorry hunni, I didn't mean to stress you, I wanted to make you feel better. I wish there was some way to know for sure, we would all feel much better and more comforted.

Hugs
Jo xx

jolovesbunnies

Elder Hopper





Gender

:


Number of posts

: 11948


Registration date :

2011-01-02



Time is the only healer I can offer. Time and your other rabbits.
With time, as the rawness lessens (and it will), you will look at everything without carving yourself up so. You will see things as they really are, and realise you really aren't to blame.
Be with your other rabbits, they will be missing Little Girl too, even if she wasn't in a bonded pair she lived close to them and they will know she has gone. They need you just as much as ever and more now they know she has gone.


woodwench

Established Hopper





Gender

:


Number of posts

: 4078


Age

: 69


Registration date :

2011-07-06



She is a wee stunner.
She is not alone over the rainbow bridge all our bunnies are there and will care for her, teach her all the naughty antics.

We have all been there and we all understand.
Over time you start to cope with it.
You have to keep thinking of all the good times.
Talk about the mischief she got up to, how sweet she was.
The more you talk the better.

What was her fav thing to do?
What was her feed me look like?
Did she have a 'im going to do something naughty glance'?

Xxx

gemma997

Established Hopper





Gender

:


Number of posts

: 1512


Age

: 37


Location

: Glasgow


Registration date :

2015-09-30



---
Permissions in this forum:
You
cannot
reply to topics in this forum