Page 1 of 2 • 1, 2

My very precious Noo came into our lives on 15th June 2008. She was taken in by the RSPCA in Lincoln as a cruelty case and then went to Honneybunny's rescue to find a partner before coming to me. After a couple of false starts she was bonded with Gabriel and made the journey up to me.
Right from the outset I was struck by how quiet she was, how lacking in bunny mischief and curiosity. I don't know if this was a legacy from her earlier life but it was sad to see, especially compared to Gabriel whose love of life after an equally horrendous start was a joy to see. She never joined him on his escapades but waited patiently for his return. She needed to feel safe and secure and didn't cope well with change, moving home from the hutch to the playhouse unsettled her so we made a special Noobox for her to sit in.
She did however love her food, I remember her chasing Gabriel in an attempt to relieve him of a treat. She also loved being out on the grass. The first time I saw her binky was a very special moment. She was very self-conscious about this and barely left the ground but as time went on the binkies became more exuberant and elaborate. Out of all the buns seeing her binky gave me the most pleasure. In time she also started to become more relaxed about Gabriel playing chase with her and would kick up her heels as she ducked in out of hiding places. He would chase her round the run, as she went into a tunnel he would head her off at the other end. Chris and I would always stop and watch when 'Chase Me' was being played.
Earlier this year Noo had a kidney infection which she seemed to recover from and as she had had a few episodes of unexplained stasis we started her on medicine to try and help. With bringing her in twice a day I became especially close to her, she was so good with the medicine and seemed to enjoy the snuggle time. Because of this she also became a lot more comfortable with me when with her outside.
On May 21st she lost interest in her food again, later in the day at the vets she laid down and went to sleep for ever.
I miss my little Noo so very badly, I hope she knows how much she was loved.
Sleep tight my sweetheart, be safe and happy at the bridge xx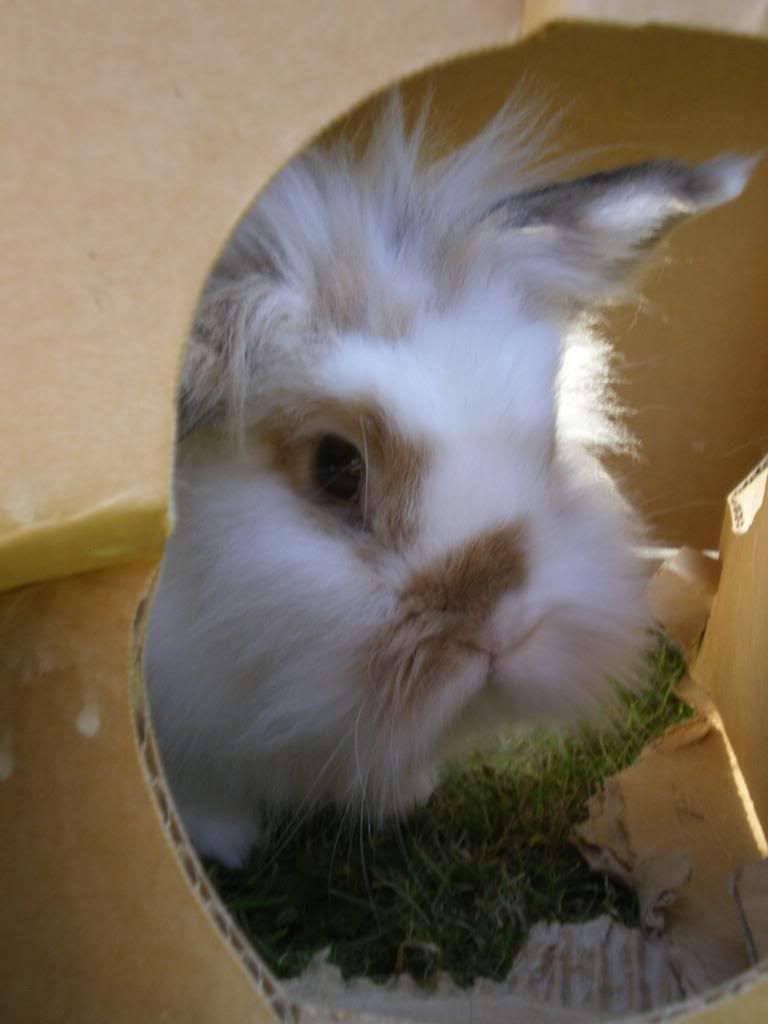 Sixer

Senior Hopper





Gender

:


Number of posts

: 5759


Age

: 52


Location

: Horwich, Bolton.


Registration date:

2008-07-25



I'm so sorry about little Noo
It's easy to see how very much loved she was and I'm sure she knew that
Binky forever free at the Bridge Beautiful Noo xxxxxx

Tuckerbunnies

Elder Hopper





Gender

:


Number of posts

: 15875


Location

:


Registration date:

2011-04-13



She was such a beautiful girl, and how lucky she was to find such a wonderful home after a horrible start in life.
I'm so sorry you lost her, it was especially tragic after you and she had battled so long to make her better
Binky free at the bridge (and without being self-conscious about it), little Noo

Sparky

Senior Hopper





Gender

:


Number of posts

: 8037


Age

: 103


Location

: Outside Theo's baby gate


Registration date:

2011-08-07



What a beautiful girl she was.
I'm so sorry you lost her
Sleep well Noo x

Thumper2001

Elder Hopper





Gender

:


Number of posts

: 12960


Age

: 31


Location

: In a mad house!


Registration date:

2011-04-26



Oh no Noo. I can't believe this. I am so sorry Vanessa. She was so lucky to find u. Binky free dear sweet Noo. X
Mum to 2 buns, 4 cats, 1 hamster and a gorgeous little boy! RIP Bella, Princess, Bugsy, George, Maisie, Littlebun, Bunny, Blanket, Chance, Sandy and Mr Darcy xxxx
Don't Breed or Buy While Animals in Rescues Die.
Goodbye little Noo. You and Gabriel were a perfect partnership. He was naughty and cheeky and you were quite the opposite. I am glad that you emerged from your little cocoon and managed to enjoy your life. You certainly gave us a lot of pleasure.
Vanessa, I am so sorry you have lost her xx


NickieM

Admin




Gender

:


Number of posts

: 14524


Age

: 53


Location

: Elgin, Scotland


Registration date:

2008-08-13



Such a lovely tribute for such a lovely girl.
Binky free Noo!

gentl

Senior Hopper





Gender

:


Number of posts

: 6686


Age

: 61


Location

: Broken Arrow, Oklahoma, USA


Registration date:

2011-10-18



What a gorgeous and special little lady you were Nia Noo.
We will all miss you and remember you.

I'm sorry Vanessa, there is no doubt that she knew she was loved and happy after her awful start.

Sleep tight princess x
Katie, Daisy B, Charlie & Annabelle x

KatieB

Admin




Gender

:


Number of posts

: 17196


Age

: 40


Location

: Hampshire


Registration date:

2009-12-02



Oh Vanessa, I am so sorry to hear of your sad loss. Noo was a beautiful girl. Sleep tight little one. xxx

Josephine

Established Hopper





Gender

:


Number of posts

: 3372


Age

: 65


Location

: East Devon


Registration date:

2008-07-23



This is so sad, I am so sorry for your loss love.

Hugs

JO xx

jolovesbunnies

Elder Hopper





Gender

:


Number of posts

: 10519


Registration date:

2011-01-02



Page 1 of 2 • 1, 2


Similar topics
---
Permissions in this forum:
You
cannot
reply to topics in this forum